Description

The powerful Lamp head supports four 45Watt Fluorescent bulbs (included) that provide an equivalent light output of 800 Watts but are bank selectable to 1/2 power(400W) without any change in color temperature.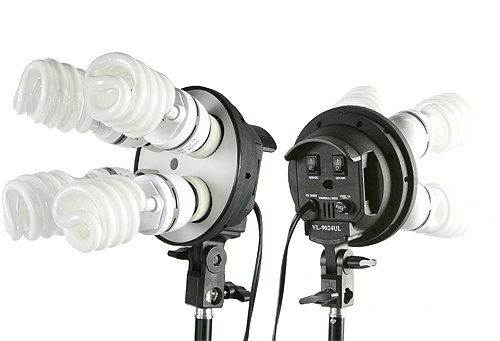 Light Stand:


Versatile, Hardworking & Lightweight
Black anodized aluminum
Max Height: 7 Ft, Min Height: 26″
Stable & Quick Setup

Photo Bulb:
45 watt fluorescent light bulb = 200 watt Incandescent light bulbs, color temperature 5500K, total output is 2000 Watt. These high-output daylight balanced compact fluorescent bulbs are ideally suited for digital photography. They also have very low heat so they don't get hot like the more common photo bulb choices.
Boom Stand 7′ Heavy duty stand; Boom arm with clamp can be extended to 5.5′
Light Socket:
It mounts on standard light stands. You can control each of the light bulb on/off.
Backdrop stand The stands are up to 7ft tall, and will take backdrops up to 10ft wide.
The stands are fully adjustable with its precision locking mechanism. 4 pieces cross bars.
Width can be set at either

5ft

,

7 ft

or

10ft
Backdrop Brand new high quality muslin background; Best available 100 percent cotton muslin material; The background has a loop rim at the top for easy mounting. It's fully hemmed at the edge;

Heavy duty high key muslin, net weight 4 lbs/ 10'x12′ backdrop

.

3×4 Light Bank Selectable Light Fixtures including power cords

12×45 Watt 5500K Light bulbs, Equivalent output of 200W each (total 2400 watts)

2x(20″x28′) silver chrome softboxes with removable front scrim

2×7 foot professional light stands

1x 7′ boom stand kit with 20'x20′ softbox

Heavy duty carrying case

1x 7'x10′ Backdrop stands kit with carrying case

1x 6'x9′ high key muslin black Backdrop

1x 6'x9′ high key muslin white backdrop

1x 6'x9′ high key muslin green backdrop
100% Satisfaction Money-Back Guarantee!


Risk-Free Online Shopping

At InspironPhoto we understand that when you make a purchase online the products that you receive may not always be what you expected. Therefore we offer "1 Month 100% Satisfaction Money-Back Guarantee" to ease your mind. If you do not like the product just simply mail it back. This is what we call Risk-Free-Online-Shopping!